Frequently Asked Questions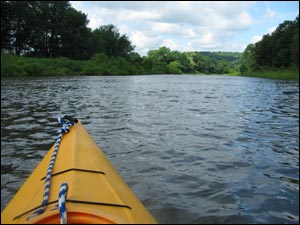 Do you have a waiver form that I must sign?
Yes.  Everyone going on a trip must sign a waiver form.  Anyone under 18 must have the signature of a parent or guardian.  Please download the waiver form here.
Do I have to have a reservation?
Yes.  All trips are by reservation only.  There is no deadline for reservations, but the further ahead of time you make them the better to insure that we have boats available for your group.
Do you have overnight trips? 
Not at the present time, but it is something we are planning for the future.  We can suggest some nearby campgrounds, B&Bs, and motels if you are interested in one of these.
When are you open? 
We are open weekends (Saturday and Sunday) only in May and September.  From June 1 to September 1 we are open 7 days a week.
What if we have to cancel our trip?  
We do not require prepayment, deposits, or have penalties for cancelation.  We just ask that if you do have to cancel, you let us know as soon as possible.
Do you have canoes? 
No. However, we have tandem kayaks as well as single person kayaks.
What should I bring?  
Check out our Advice and Tips page for a list of what is necessary and what is suggested. 
What are the age limits and restrictions? 
All children under 18 are required to wear a life jacket and must have a parent or guardian sign a waiver form for them.  For kayaking, it is more a question of experience, rather than age.  We need to feel confident that the minor will be able to operate a boat before we put them on the water.  They should also be accompanied by a responsible adult.
What physical shape should I be in? 
You should be in good physical condition.  If you have a health concern, consult with your physician prior to coming.